By Gregory Zeigler
These days living in Jackson Hole there is an additional four-letter "f-word" that immediately gets your attention—free! Now that we have become the home of the twenty-five-buck breakfast, it's nice occasionally to be offered something gratis as special as The Jackson Hole Nordic Alliance's 5th Annual Nordic Skiing, Fat Biking and Snowshoeing Event.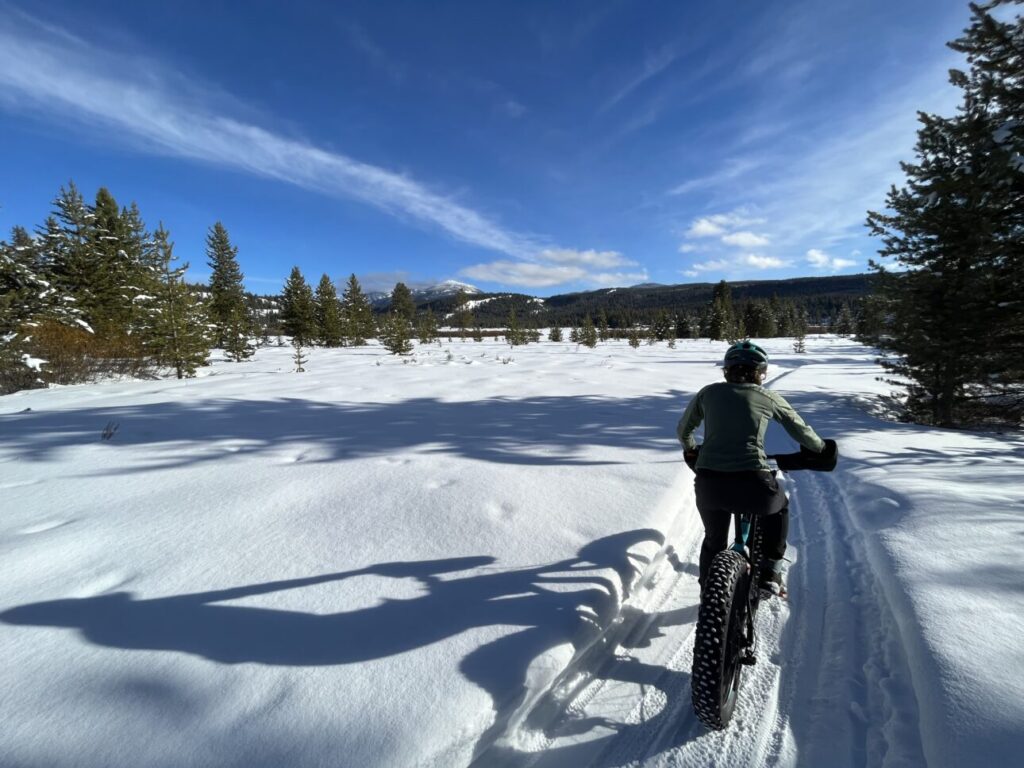 The free event was held with great success for the first time in three years on Sunday, January 8th. There was even a free shuttle sponsored by Teton Science Schools from town to the stunning venue at Turpin Meadow Ranch.
The excitement, which ran from 9:30 until 3:00, included open trails for biking and skiing, a kid's corral, Nordic classic and skate lessons, back-country Nordic and snowshoe tours, gear and fat bike demos and so much more. Close to 600 people attended. It was great to see kids of all colors trying cross-country skis and fat bikes.
Turpin Meadow Ranch offered hot food and drink. The Alliance held a raffle loaded with great swag benefiting the Bridger-Teton Nordic Trail Ambassador program. Tickets were only five bucks.
The drive to Turpin Meadow from our house near Jackson took just under an hour. And what's not to like about a drive though Grand Teton National Park with snow-covered conifers in the foreground and jagged wintry peaks to the rear? The Buffalo Valley, home to Turpin Meadow Ranch, is just east of the park boundary and is every bit as scenic. The ranch itself rests in a bowl at the head of the valley and is connected to five miles of groomed trail over hill and dale (sometimes in the trees, sometimes across meadows, sometimes up and down hills) offering challenges to all levels of ability—skate, classic, snowshoe or bike.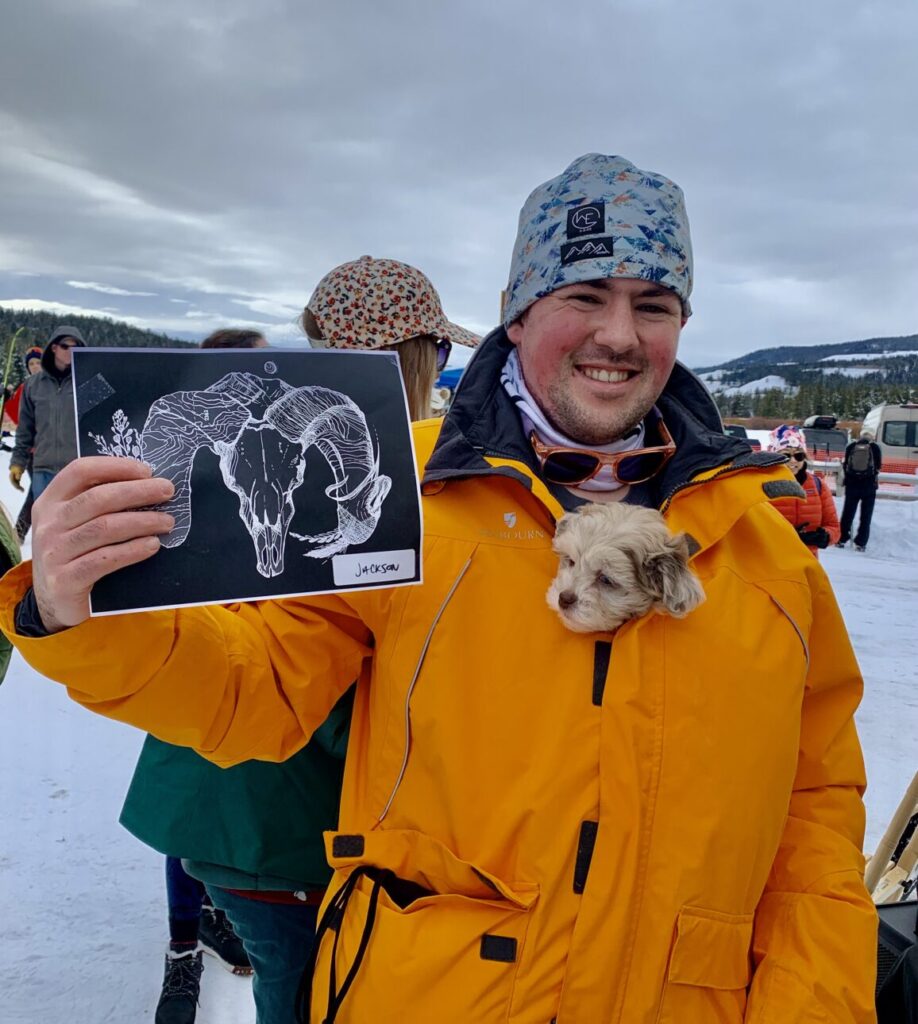 I had an enjoyable time visiting the cozy lodge and several of the vendor booths.
Clare English, keeping warm by her Solo stove while working the High Country Outfitters booth (which also hosted a cornhole game) said they were located right on the town square and for this event they had snowshoes and ski equipment available as demos. Clare said, "We just love offering snowshoe and ski equipment and guidance to help people enjoy winter recreation. Tourists have a tendency to go for the snowshoes, locals the Nordic skis." Feeling I needed to be a probing investigative journalist, I asked, no doubt unconvincingly, "Wouldn't you rather be on a snowmobile?" Not really," Clare said, smiling, "But I can't wait to try out one of the fat e-bikes later today."
Clare's enthusiasm piqued my curiosity so I found Tim Hoff, owner of Hoff's Bikesmiths located in Jackson also one of the vendors at the event and asked him about winter e-biking. Apparently, there are ways to keep the batteries functioning well even in extreme cold and the tires are studded for traction. And winter e-biking gets riders on wheels for year-round recreation. Tim said, "Some folks don't want to, or physically can't, hammer anymore. That's okay. The ease of this multi-season option helps them rediscover the love of biking." Being a guy who hasn't hammered in some time, Tim was talking my language.
Just after speaking with Tim, I cornered locals Cynthia Millard and Deb Sawyer.
I asked why they had attended this event. Cynthia, originally from Rockford, Illinois, held up a bag full of goodies and exclaimed, "For the free swag and the skiing." Deb pointed to a groomed track where skiers gathered for lessons in front of a stunning view of the Tetons, a large dog bounded through the deep trackside snow, "Just look at this place. It is a hidden gem!"
A gem indeed, Deb. On the way home my wife, Dimmie and I were plotting our return to the ranch with plans for staying the two-night minimum and for enjoying snowshoeing, Nordic skiing and to experience for the first time, some of the ranch's fat bike rentals. Oh, and the dining, did I mention the amazing Turpin Meadow Ranch food?
Until last year, I was a longtime local Nordic skier gliding along blissfully ignorant when it came to many local resources for Nordic skiing. And then I met Nancy Leon. And learned about the Jackson Hole Nordic Alliance and JHNordic.com, the organization's website. Now I start every winter day with a check of the weather and a visit to JHNordic.com where I get daily grooming reports along with many other entertaining and informative features.
Over lunch recently I asked Nancy—JH Nordic's founder and Executive Director—how all this got started. She informed me that after a pretty serious Alpine skiing knee injury, her doctor told her she might consider rehab on Nordic skis. She immediately encountered a paucity of good reliable information on local winter trails. So, she conferred with folks at Skinny Skis, Friends of Pathways and Community Pathways, Sean O'Malley editor of the Nordic News, and others and asked if they would be interested in a community-oriented website designed to share trail information for Nordic Skiing, Snowshoeing and Fat Biking on both sides of the Tetons.
At this point in our conversation over lunch, I'm thinking, those folks must have been thinking what I'm thinking; Nancy doesn't do anything halfhearted or halfway.
"And by the way, we don't care whether it's Nordic skiers or fat bikers or snowshoers or dog walkers. Anyone using our incredible network of winter trails should be able to use this resource. And again, thanks to this community collaboration, one of the team members said, 'Well, let's call it The Nordic Alliance' and so from that it just grew and we just kept connecting and getting together and talking to people and being a resource for each other and realizing that, altogether, we had a pretty amazing story."
Yes, Nancy, it truly is an amazing story. And the annual community event at Turpin Meadow Ranch—open to all and embracing all forms of winter sport—is one of the more exciting chapters.