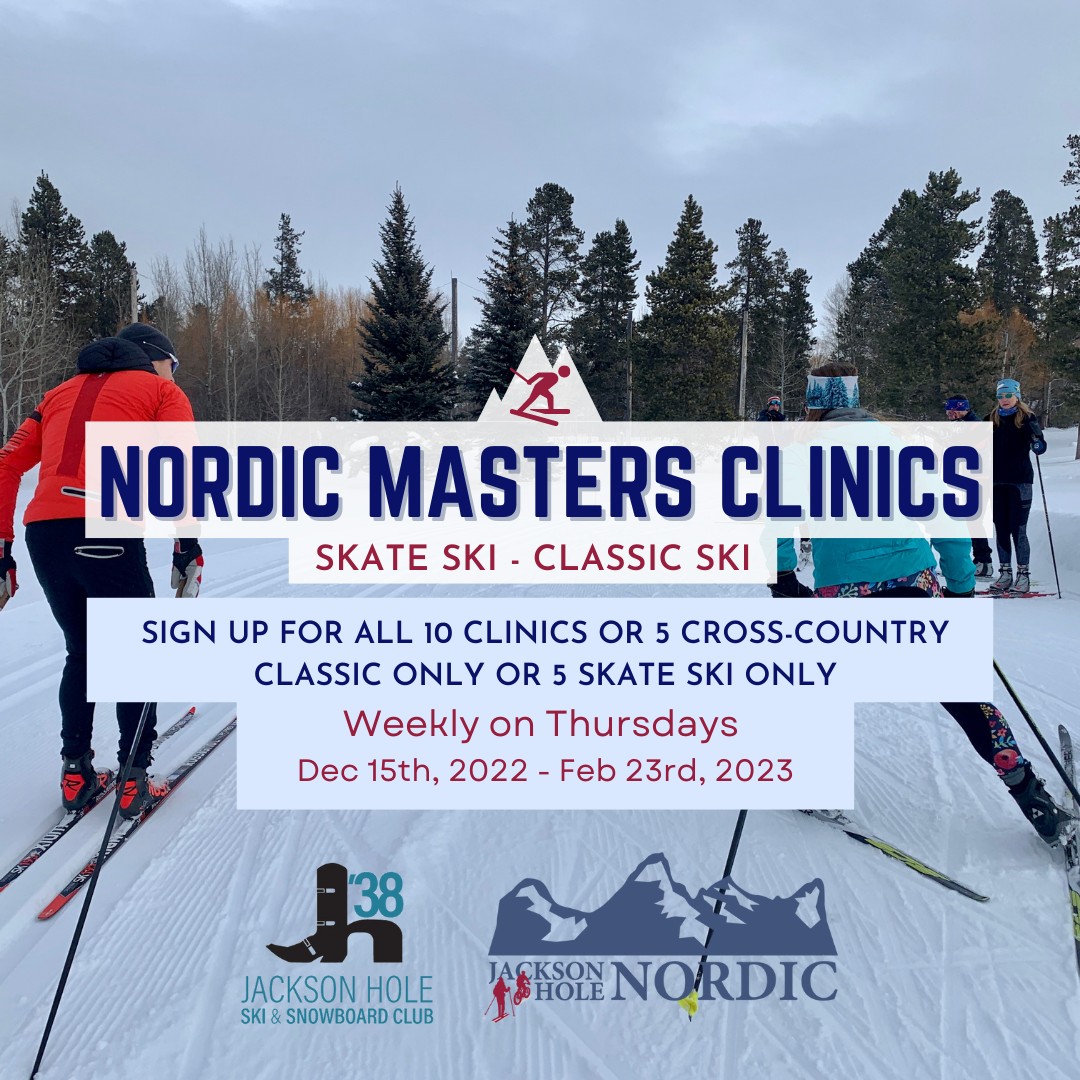 Jackson Hole Ski Club Masters Nordic Ski Clinics – Skate Ski
Join us this winter season to increase your ski speed, stamina, strength, technique, balance, fun. Work on your technique and form with professional tips and exercises with Jackson Hole Ski Club Nordic coaches. Small groups tailored to your own level. Stay and ski all day with your clinic ski pass at Teton Pines Nordic Center or Trail Creek Nordic Center (we will ski at both locations through out the winter to provide a variety of terrain and technique).
There will be 10 clinics, starting with 2 clinics in December, then running every Thursday in January and February from 11am-12:30pm. The Nordic Masters clinics will focus on skate ski and classic cross country skiing every other week.
Sign Up online: Pre-registration required
Full 10 clinic series -5 Skate Ski clinics, 5 Classic cross country ski clinics
OR
5 Skate Ski clinics only
OR
5 Classic Cross Country Ski Clinics
Sign up and pay online for Drop in clinics -We encourage you to select a 5 clinic package to ensure your place in the clinic.
Ski Clinic Dates & Locations
Weekly on Thursdays starting Dec 15th, 2022 – Feb 16th, 2023.
Locations: (will be published for each event date)
Teton Pines Nordic Center, Moose-Wilson Road, north of Wilson
Trail Creek /JH Ski Club Nordic Center, Trail Creek Rd (off Hwy 22), west of Wilson, WY
Thurs. Dec 15 – Classic cross country ski-Teton Pines
Thurs. Dec 22 – No class -Too cold!
Thurs. Dec 29 – Skate ski -Teton Pines
Thurs. Jan 5 – Classic cross country ski -Teton Pines
Thurs. Jan 12 – Skate ski – Teton Pines
Thurs. Jan 19 – Classic cross country ski @ Teton Pines Nordic
Thurs. Jan 26 – Skate ski @ Trail Creek Nordic
Thurs. Feb 2 – Classic cross country ski @ Trail Creek Nordic
Thurs. Feb 9 – Skate Ski @ Trail Creek Nordic
Thurs. Feb 16 – Classic cross country ski @ Trail Creek Nordic
Thurs Feb 23 – Skate Ski @ Trail Creek Nordic
For more info
Contact Nancy at info@jhnordic.com or info@jhskiclub.org