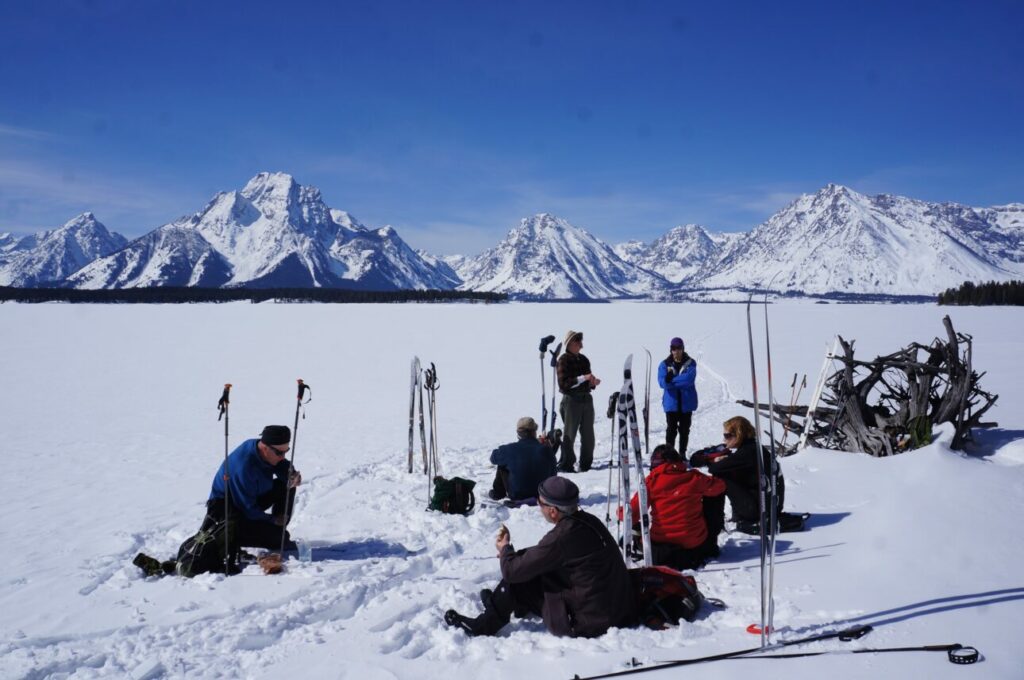 JHNordic.com is a community-oriented resource, designed to identify, map, describe, and share, all the best trail information on the extensive, extraordinary Nordic skiing, Fat Biking, and Snowshoeing in the Jackson Hole/ Teton Valley/Greater Teton region of Wyoming and Idaho.
Our aim is to broaden your horizons, provide the latest information on 100+ winter trails, find somewhere new or visit a favorite place, access the latest grooming and trail reports, find useful local resources, share information on responsible and sustainable winter recreation in the Greater Teton region -all in one place.
We welcome your input on favorite places, trail routes, maps, descriptions, photos, trip reports, resources, good gear, tips for all types of "skinny skiing", fat biking, winter trail outings, from beginner to advanced – on the trail and off, groomed, skier tracked and untracked. Our focus is on skinny skis – cross-country, skate, light BC skis, as well as fat biking and snowshoe trails, walking and running on winter trails.
Sponsor and support Nordic skiing in the Greater Teton/Jackson Hole/Teton Valley region, as one of the best places to get out and explore, exercise, ski with your dog or a friend, have fun and discover new trails or visit classic favorites! Profits will be donated to a regional Nordic/Winter Trails non-profit project.
Jackson Hole and the Greater Teton region offers over 100 nordic trails, 40+ fat bike trails, across 200 miles of groomed trails and 500+ miles of ungroomed, untracked trails, with scenery, beauty, winter wildlife and snow that compares to nowhere else.
---
Our team:
Editor/Project Mgr: Nancy Morgan Leon
Web Development: Wade Williams, Heather DeVine, Alex Leon
Content Development: Heather DeVine, Amy Yatsuk, Elee Deschu, Nancy Leon, Cathy Shill, Karen Daubert, and a range of guest writers.
GPS tracks: Nancy Morgan Leon, TVTAP, Kat Smithhammer, Chris Owen, Karen Daubert, various community members
Steering Committee : Scott Horn, Karen Daubert, Nancy Leon, Scott O'Brien, Ali Sehnert, Scott Sanchez, Ron Stiffler, Linda Merigliano (Ex-Officio), Dan Verbeten (Ex-Officio)
Thanks to our generous sponsors, partners, donors and contributors, Nordic, fat bike & snowshoe winter trail enthusiasts, many friends, our community for their contributions and support.
---
Contact Us
JH Nordic welcomes your input, feedback, trail reviews and reports, nordic resources, photos, donations, contributions – anything to keep our nordic and winter trails community informed of relevant topics and experiences.
Post your trail reviews and reports under your trail of choice.
Contact us at: info@jhnordic.com
Mailing address:
PO Box 911
Wilson WY 84014
---
Contribute:
JHNordic.com aims to be as accurate, up-to-date, and comprehensive as possible for all trails of note in the Jackson Hole/Greater Teton Region. Become a JHNordic Ambassador and contribute your latest trail description, GPS tracks (.GPX format), and photos.
To contribute, write to: info@jhnordic.com
---
Sponsor:
To become a Gold or Silver Sponsor, or Sponsor a ski Trail, write to us at: info@jhnordic.com
---
Other Resources:
Some of our information is gathered from other businesses and government agencies in the Teton Valley Area. For any Enquiries regarding trail maintenance and condition, contact the appropriate agency:
Teton Valley Trails and Pathways: http://tvtap.org/
Teton County & Jackson Parks and Recreation: http://www.tetonparksandrec.org/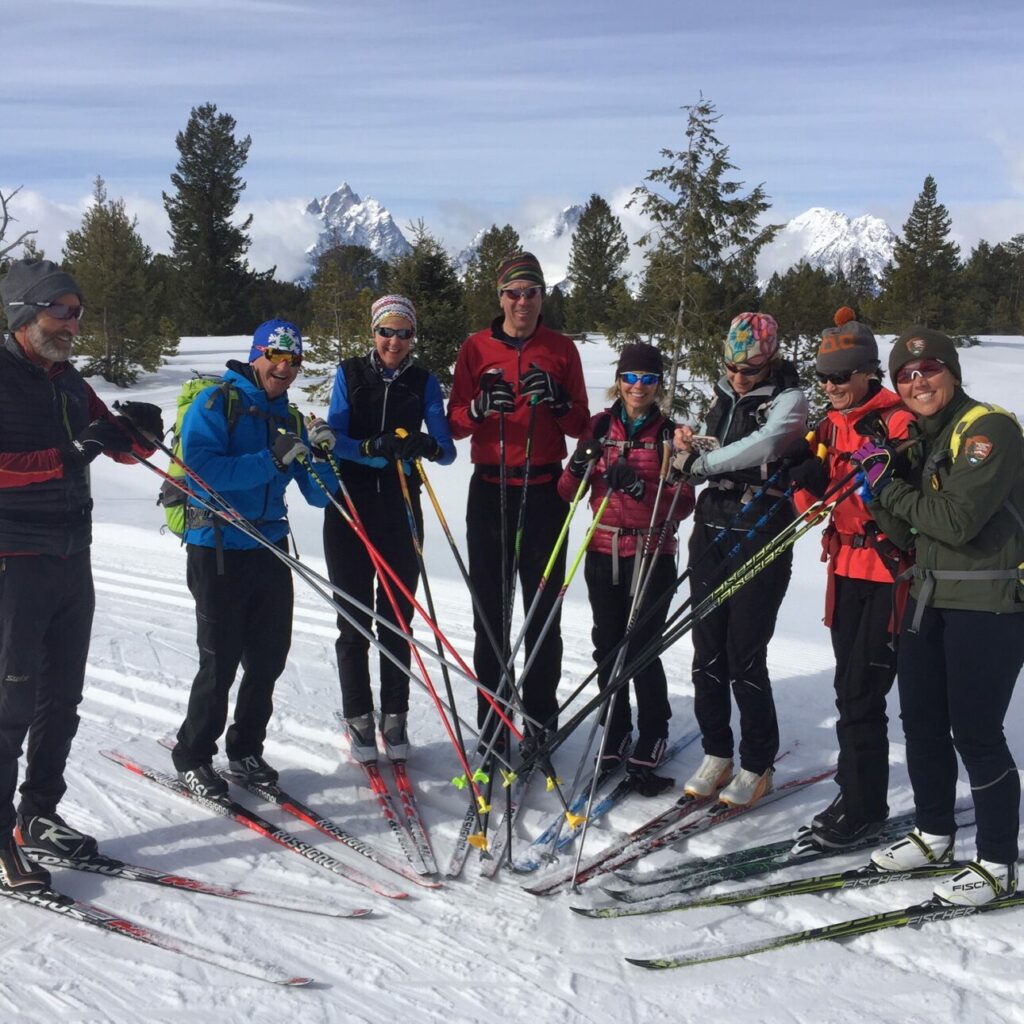 Donate:
JHNordic.com is a non-profit, community-focused, Nordic ski -Winter Trails maps and guide resource. We welcome your input and contributions. Our profits will be donated to a regional community non-profit winter trails project. Thanks for your support!
---
Jackson Hole Nordic Alliance:
A collaboration of community organizations and enthusiasts practicing and supporting Nordic skiing, fat biking, snow shoeing in Jackson Hole, Teton Valley and the Greater Tetons.
The JH Nordic Alliance works with community partners such as Grand Teton National Park Foundation to contribute to community-sponsored funding for Nordic trail grooming from Taggart trailhead to Signal Mountain. The JH Nordic Alliance partners with US Forest Service -Bridger Teton in their winter trail ambassador program, Teton County/Jackson Parks & Recreation, Teton Valley Trails & Pathways and more.
We are grateful for the generous support of the JH Travel & Tourism Board as our major underwriter, as well as sponsors and the community.
Members/participants include:
Scott O'Brien, Taylor Hall | Skinny Skis
Sean O'Malley | Enthusiast
Scott Horn | Nordic Masters Ski Coach
Phil Leeds, GTNP Nordic Ambassador
Ned Wonson | Jackson Hole Mountain Resort & Hoback Sports
Nick Beatty, Dan Verbeten | Teton Valley Trails and Pathways
Cody & Colleen Downard | Teton Pines Nordic
Brian Schilling | TC/J Community Pathways
Nancy Leon | JHNordic.com
Chris Owen | Friends of Pathways
Dave Hunger | Teton Mountain Bike Tours
Cathy Shill | Hole Hiking Experience
Taylor Philips, Tenley Thompson | JH EcoTour Adventures

Ryan Kelly |

Grand Teton National Park Foundation
Linda Merigliano, Lesley Wiliams, David Wilkinson | Bridger-Teton US Forest Service
Scott Kosiba, Karen Daubert | Friends of Bridger-Teton
Ron & Bobbi Stiffler | Turpin Meadow Ranch
Erich & Chris Wilbrecht | JH Sotheby's
Andy Erskine, Rachael Zimmerman | TC/J Parks & Rec
Ali Sehnert, Will Wicherski, Steve Swan | JH Ski & Snowboard Club
Paul Smith, Hal Wheeler | The Hub
Crista Valentino | JH Travel & Tourism Board
Elizabeth Maki, John Tobiason, Jess Erwin | Grand Teton National Park (Partner)
George Davis, Ramona Sanchez | 22 Nordic
Jill Gaylord | Grand Targhee Resort
JH Chamber of Commerce | Rick Howe
Heather DeVine | Transcend Ideas
Amy Yatsuk, Elee Deshu | JH Nordic Trail Report production
Jennifer Kohlhardt | Enthusiast
Christine Mock | Kates Real Food
Gwenn & Don Wadsworth | Nordic Instructors
Scott Sanchez, Claire English | JD Outfitters
Contact info@jhnordic.com to join us & learn more