---
NORDIC NEWS
---
News from West Yellowstone from Jackson Hole Ski and Snowboard Nordic coach Ben Morley: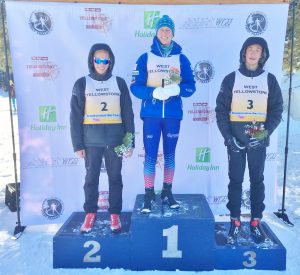 First off congratulations to all of the Super Tour Racers, the experience of racing against a tough national field of juniors and seniors is invaluable. There were some super strong results, particularly today with Natalie coming in 8th in U16s, but 2nd in intermountain standings. Both David and Bridger found the U16 podium today with strong performances. In Elijah's first 15km as a U18 he came in 8th among the juniors, right in the mix with a handful of strong skiers. Birch and Josh, coming off a bit of illness are focused on recovering for the upcoming races. Solid efforts to everyone in both races. See https://www.sportstats.ca for complete results. 
---
SKI REPORTS
In general most areas are reporting good conditions and while little new snow is forecast for the rest of the week, the sun is weak and the temperatures are forecast to be in the Nordic perfect range of zero to freezing so good early season conditions should continue.
Report date: 12/3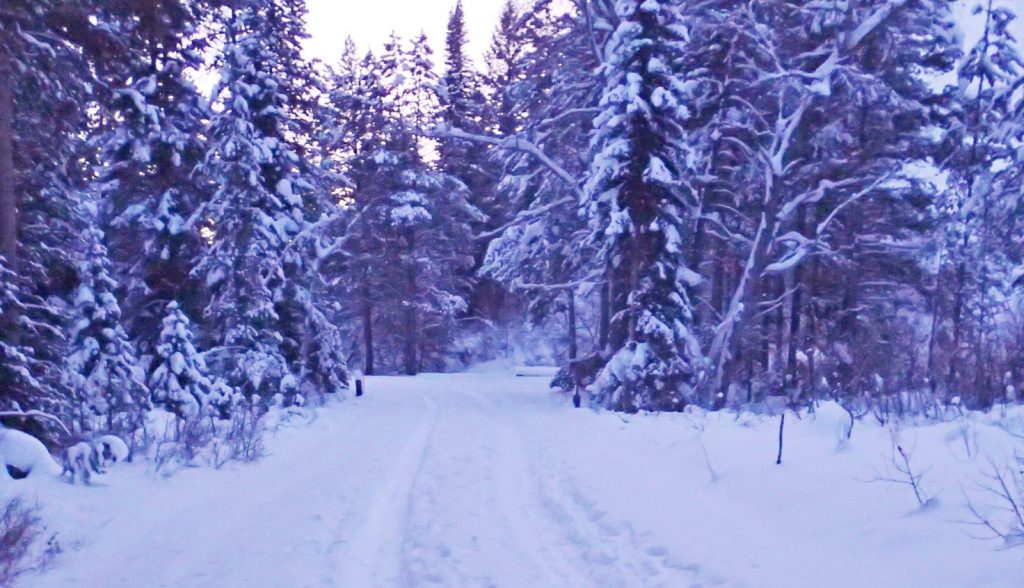 Teton Village to Moose Road:  A local skier reported great skiing on the closed section of the road from Teton Village to Moose this evening when the above image was taken  The conditions are about 16 inches of great snow with two very well defined parallel tracks allowing you to ski side by side with your partner on the skier groomed track.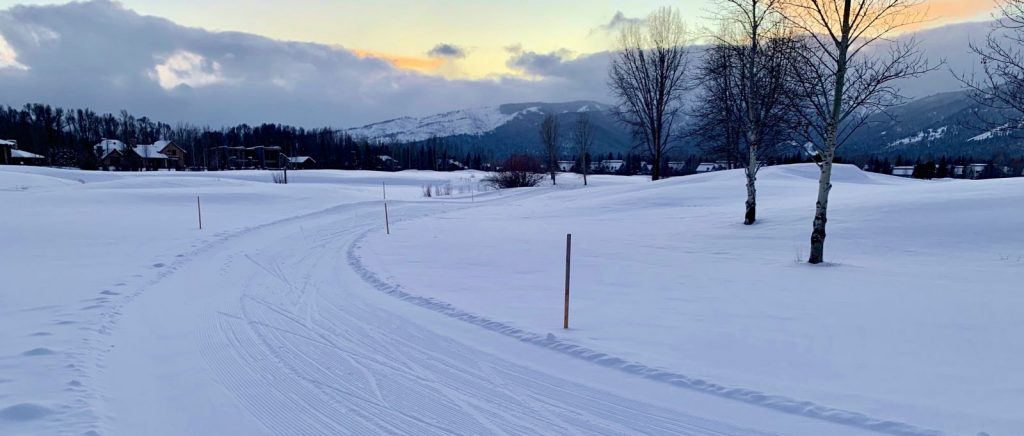 Teton Pines:  The image above highlights a great sunset and conditions from Monday.
---
GROOMING REPORTS
---
Trail Creek Grooming Report
Last updated: 12/3
Nordic Moose!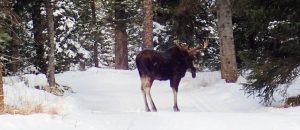 As of 11:30 conditions at Trail Creek were a temperature of -10ºC/14ºF with calm winds, patches of sun, and a flake or two of snow from time to time.  Today's grooming was a single Pisten Bully skate pass on all currently groomed trails with additional passes with classic tracks on the close field, Armin's, Moose Loop, and Woolsey Woods.  While today's classic tracks are pretty nice, older ones are a bit sketchy.  Cle's Climb was groomed for the first time of the year but make it an up and back as Faceplant is unsafe being only packed not groomed in hopes of capturing drifting snow.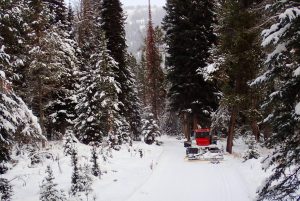 Groomer's choice for today is Woolsey Woods.
---
Shooting Star Grooming Report
Last Updated: 12/2All trails are now open! Skiing should be great considering the time of year. We're still a ways out for the snow to be deep enough for setting the classic tracks. Bundle up and enjoy the blue bird forecast. Next update will likely be Thursday.
Below are some other details:
Tight corners may be soft/rough  as its difficult for the grooming equipment to navigate through them(Example: Sharp Turn from 8 Green to 9 Tees)
Early Season Conditions Persist (Rocky/grassy/Inconsistent profile depth & compaction)
Be aware of soft spots
No Classic Track will be set until snowpack increases
Conditions will improve as more snow accumulates
Grooming frequencies may vary depending on snow conditions
Enjoy!
---

Grand Teton National Park Grooming Report
Last Updated: 11/30
Started Grooming in Grand Teton National Park this morning. Taggart Lake to Signal Mountain. Get out and enjoy the tracks over the weekend!
---

Teton Pines Grooming Report
Last Updated: 12/3
We have excellent conditions at the Pines with all of our trails open and groomed daily for skate and classic. We offer daily lessons in both techniques. Open 9am-4pm daily. Please visit our website/Facebook page for more information, or give us a call: (307)733-1733. Wax recommendation for Tuesday Dec 3-Friday Dec 7: Glide wax: Swix LF6, Kick/Grip: Swix Blue Extra
---
Teton Co./Jackson Parks & Rec Grooming Report
Last Updated: 12/3
2:00PM-Equipment repair has been made and grooming up Cache Creek to Noker Draw will take place this afternoon. Yahoooo!!
---
Grand Targhee Grooming Report
Last Updated: 11/30
With over 10 inches of fresh snow now groomed into the Nordic trails, and more snow overnight Friday, the Nordic trails are in excellent shape for both skate and classic. Fat Bike single track trails are also very good. Reminder that dogs are not allowed on nordic and fat bike trails. Be sure to purchase a trail pass. And after a huge overnight snowstorm, grooming may be slightly delayed, as the GTR groomers work to get all 3 trails systems open (alpine, nordic and fat bike).
---

Alta Track
Grooming Schedule: Tuesday, Thursday, Saturday, Sunday
Last Updated: 12/1/2018 14:11:08
Skate: Good  |  Classic: Not Set
Comments: We are 100% open. Still a bit soft. Will set the classic track soon.
Driggs
Grooming Schedule: Monday, Wednesday, Friday
Last Updated: 11/19/2018 11:06:15
Skate: Not Set  |  Classic: Not Set
Comments: Coming Soon!
Sherman Park
Grooming Schedule: Monday, Wednesday, Friday
Last Updated: 11/19/2018 11:06:15
Skate: Not Set  |  Classic: Not Set
Comments: Coming Soon!
Teton Canyon
Grooming Schedule: Monday, Wednesday, Saturday, Sunday
Last Updated: 12/3/2018 6:16:51
Skate: Good  |  Classic: Good
Comments: Monday: An inch of new cold snow aught to allow for a good reset of both skate and south classic tracks. Finish by 930am.
Teton Springs
Grooming Schedule: Tuesday, Thursday, Saturday
Last Updated: 12/2/2018 5:12:19
Skate: Poor  |  Classic: Poor
Comments: Saturday, 12/1 Teton Springs was groomed for the first time this year. I'm giving the trail a "poor" condition due to the amount of vegetation poking through the groomed surface in a few areas. Most of the trail is in good condition. We need one more storm and the trail will be great.
Ski carefully as the base depth is only a few inches deep.
Teton Springs Singletrack
Grooming Schedule: Monday, Wednesday, Friday
Last Updated: 12/1/2018 4:24:14
Singletrack: Good
Comments:Heading out to groom the Teton Springs singletrack, Southern Valley connector trail and Upper and Lower Lady Slipper. It should be in decent shape for Global fat bike day today.
5th Street Singletrack
Grooming Schedule: Monday, Wednesday, Friday
Last Updated: 12/1/2018 10:26:20
Singletrack: Excellent
Comments: Rode-in 5th St. this AM. Fast, fun and tight! Start north of skatepark for 1mi figure-8. Happy Global Fatbike day! Go grab a demo bike from local shops.
Southern Valley Single Track
Grooming Schedule: As Needed
Last Updated: 11/28/2018 12:44:59
Singletrack: Good
Comments:Powerline from Grumpy's to Pole Canyon and the Teton Springs gravel path are rolled to perfection. Grumpy, Upper and Lower Ladyslipper are Fat Biked in. Nemo should be open shortly once the logging operation has ceased. Hope to see everyone at our Global Fat Bike Day event this Saturday, Dec 1st, at Teton Springs.
For more info on Teton Valley grooming, visit their grooming page.
---
Pinedale Nordic Grooming Report
Nordic ski trail grooming report – Dec. 1, 2018(posted 12/1/18)
Mike Looney, Groomer, Sublette County Recreation Board 
Saturday, December 1, 9:30AM report:
Old Road Trail, Upper & Lower Surveyor Park, and Moose Ridge all groomed today. About ½ foot of new snow, mostly from yesterday. Great ski day. Sunny, slight breeze, 15F degrees.
This Nordic Ski Trail grooming report is courtesy of the Sublette County Recreation Board.
Related Links:
X-C Ski Trail Map – (356K PDF)
Road and Weather links
www.visitpinedale.org Pinedale tourism website (links to lodging, dining, area information)
www.whitepineski.com White Pine Resort, 307-367-6606, (Nearby alpine skiing, food services, restroom)
www.greatoutdoorshop.com The Great Outdoor Shop, 307-367-2440
www.sublettechamber.com Local businesses & services, 307-367-2242
www.golfpinedale.com Rendezvous Meadows Golf Course (Additional Nordic ski trails, food services, restroom)
---
UPCOMING EVENTS
---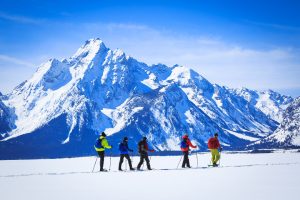 December 4th:
GIVEAWAY ALERT!
We've partnered with our friends at @jacksonholeecotours x @anvilhotel for the ULTIMATE WINTER GETAWAY to Jackson, WY. Includes: 1- full day snowshoe & wildlife tour and 1-half day Nordic Skiing Tour from @JacksonHoleEcoTours, 4 nights lodging at the @AnvilHotel, a $100 dining credit to @GloriettaJackson, admission to a Raptor Encounter Program from the @TetonRaptorCenter, admission to @WildlifeArtJH, lunch at @PalateJacksonHole, a Sleigh Ride on the National Elk Refuge and C.1 Binoculars from @MavenBuilt, 2 JHNOrdic neck gaiter buffs from @JHNordic.com
Enter to win now!
Follow each account + tag two friends in the comments. Signup plus rules and regulations at anvilhotel.com and www.jhecotouradventures.com. Winner announced, December 19th.
#anvilexplorer #myjhecotour
---

Check out all the details at Jackson Hole Ski and Snowboard Club.
---

For more events, visit our events page.